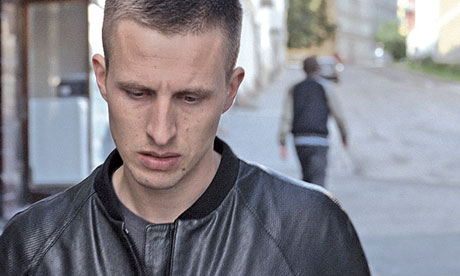 It's a Norwegian film directed by Joachim Trier and starring Anders Danielsen Lie. It's about a former drug addict (Lie) on a trip back to Oslo for a job interview. It was released this summer but I only got around to watching it now--which is kind of a shame, because I don't think I'm going back to Norway anytime soon, so it can't really catch me in the act.
I was satisfied to see that Oslo is not portrayed as a joyful place (to say the least). I don't think I've ever traveled anywhere that seemed quite so impervious to joy, or even skippiness that you can, on solitary walks, augment via iPod with some upbeat indie rock. There were some extraordinary factors against me: my hostel, which Lonely Planet described as "barracks-like," was an actual barracks; at breakfast (my only inexpensive meal), everything that looked like salami was actually fish, in ham-red slices; I could not afford normal meals so ate nothing but 7-11 raisin rolls and plain cream cheese for four days, so hungry that I stopped going out to conserve energy; and right before leaving the US I had had an end-of-days fight with a friend. (What would Oslo have been like if I had limitless funds? I would have maybe eaten more or seen more, but I certainly wouldn't have made any more friends, because I actually don't know how.)
Meanwhile, what Anders in the movie has against him is his years of addiction and tenuous recovery, ruinous debt, nothing to look forward to, and constant temptation. Unlike me, he has old friends (though he confuses every one of them by being too forward and offensive while also being meek and indecisive), memories everywhere, and a good grasp of Norwegian, so that when he sits in a coffee shop he can hear that people all around him are leading normal and possibly joyful lives.
I think many of my suburban cohort grew up with a "The O.C." vision of drugs, violence, depression or whatever, that is to say, a romantic vision where these things lead to extremely interesting high-stakes gossip, love against all odds, people proving themselves and rising above, maturity, knowledge, authenticity. This is awful for two reasons: first, because it's a representation of a secret, not-much-discussed world, so that as a young and blessed person you think there has to be some truth there (though I realy like Intervention for its unflinching counterpoint), and second, because even if your friends start doing terrible things, like those strangling-games and inhalants so popular in suburbia, which seem a world away from the intensity of the O.C., or even the suicide-threats of people like my eighth-grade boyfriend, or the many other terrible things that even the blessed young people manage to experience--you never notice that
this
is exactly what the O.C. was going on about, and that "authenticity" is a sham. And then you become old and everyone starts getting into real problems or dying and no one even cares because everyone else's people are dying!
"Oslo, August 31" cares about this seriously dying person, but it doesn't ever attempt to prove to you that you should, by making Anders especially sympathetic, moralizing about him, or even giving us a clue about why he keeps acting this way. He comes from a middle-class background; his parents care about him and are changing their lives to pay for his treatment. I think the film's greatest strength is its unpredictability, which conflicts in a friendly way with all my recent worries about creating suspense, a plot, an emotional bond. I recently read some writer's advice that said we should be able to look at the end of the story and think, well, given that character's choices, it could not have worked out any other way--logic and inevitability. "Oslo, August 31" lacks this causality; nothing had to happen the way it did, so it is also engaged with the question of what makes a narrative or character seem credible and whole to us, and how an addled mind can remove credibility while adding the grit of the real.